Bicycle Seta Bag for a replacement tube
Imagine a broken tube on a trip through the mountains or the regular commute to work. Meh. Don't need that. Right? Especially if you're out of a replacement one. So take care and bring along a spare tube. Load it inside a Tyre Hoody and it will stay nice and clean and shiny when you really need it. In addition it will be protected from water and uv-lights that will otherwise damage the rubber before even using it. You can store a tube up to 29″ (MTB dimensions) plus some tools like a tyre lever. Of course you can also keep a 26″ or a 28″ within the tyre hoody or only tools. But that's up to you. The tyre hoody will only be as small as the things you will insert due to it's unique fastening system. You will find a velcro fastener up front to close the bag and a strap fastening system that will build up a symbiosis with your saddle. You will see: Once the bag is installed it sits pefectly. Period. Take a closer look right here: Shop Link
… and other items
Use it for whatever you like. Maybe for some tools, a light rain jacket or a usb charger. Place it, string it. That's it.
Waterproof shield
The fabric is waterproof to keep you belongigs dry. Insert a battery inside the tyre hoody that will power your bicycle lights or your smartphone if you like!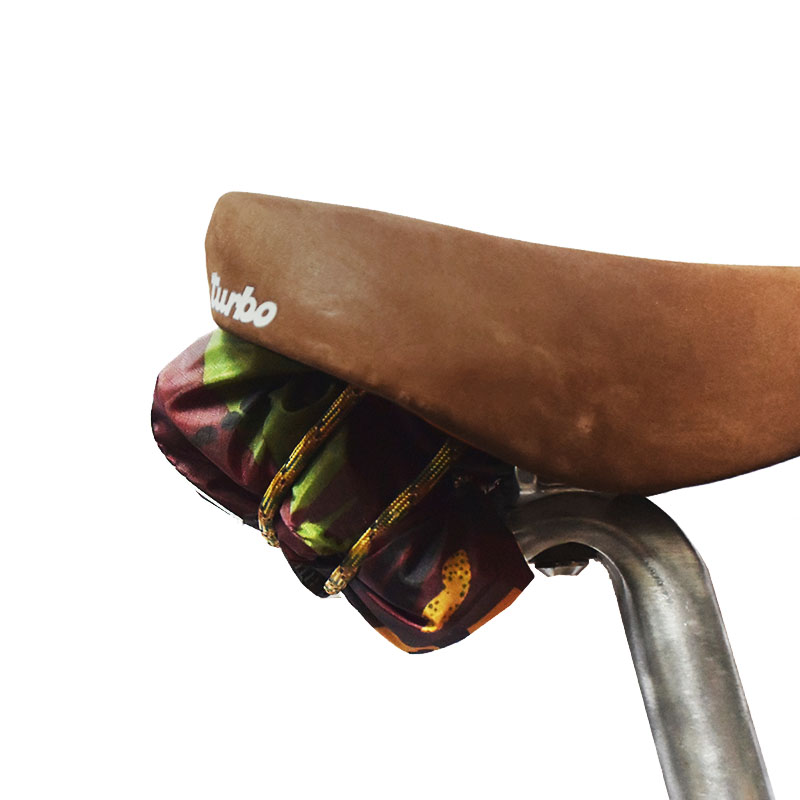 Form follows function – And form doesn't need to look bad!
The unique fastening system will also outshine other seat bags. The tyre hoody can be installed to all the common seats out there. No problem. It will be placed right underneath the saddle. One of the main advantages is, that it will get even more compact while you attach it to the bike due to the cord fixation.